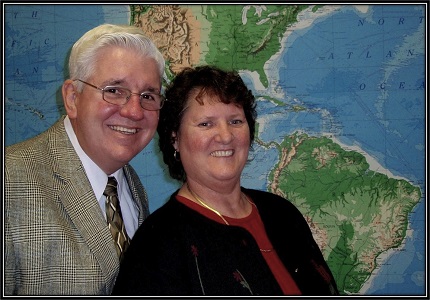 Bill and Sharon Smith
Missionary to Brazil
Searchlight Article February 2015
---
Bill was born in Napoleon, Ohio, on January 8, 1949. Later his family moved to the city of Mansfield, Ohio, where he attended services at the Mansfield Baptist Temple with a high school friend. He was saved at the age of 16 and later called to preach. In order to prepare himself for the ministry, he attended the Bible Baptist Seminary in Arlington, Texas, from which he graduated in 1970.

Sharon was born in West Virginia on April 1, 1951 but grew up in Massillon, Ohio. Sharon trusted Christ as her Savior at the age of 7 at the Massillon Baptist Temple. She continued to grow in the Lord by actively participating in the Sunday school and the youth department.

Bill and Sharon met in Massillon in 1969 and then on August 15, 1970, they were married. They joined Worth Baptist Church in Ft. Worth, Texas and Sharon attended the Bible Baptist Seminary. July of 1971, they were approved as missionaries to the field of Brazil and arrived on the field in October of 1972. They were sent out by the Worth Baptist Church in Ft. Worth, Texas and are Independent Baptist Fellowship International Missionaries.
During their years of ministry in northern Brazil, they had the privilege to start five churches all now having national pastors except the one where they are presently working. First Baptist Church of Novo Airao is located on the upper Rio Negro (Black River). They have their own building. In 2001 the church itself started another congregation in a new neighborhood and now they also have a building in which to meet.

Bible Baptist Church in the city of Caracarai is located north of Manaus and has now finished their new auditorium seating over 100 people. They are adding on more Sunday school classrooms and facilities.
Bible Baptist Church of Santa Tereza II and Bible Baptist Church of Carana are located in the city of Boa Vista north of Caracarai and have their own Brazilian pastors and buildings.

Bible Baptist Church of Alvorada was started in 2007 and Bill and Sharon are working in this church.

Bill and Sharon have also been involved in the training of national workers by teaching in a Bible Institute located in Manaus, Amazonas about 500 miles south of the city of Boa Vista, Roraima.
Their desire is to start more Independent Baptist Churches and also to help start a Bible Institute in the city of Caracarai and to reach more people with the Gospel in the coming years.
Bill and Sharon Smith
Missionaries in Brazil
Mission Office Address:
IBFI
724 North Jim Wright Freeway
Fort Worth, Texas 76108
817-367-3422
Sending Church:
Worth Baptist Church
4900 Campus Drive
Fort Worth, Texas 76119
Pastor: Tyler Gillit
Tel: 817-534-0787 Fax: 817-534-0501
Field Address:
William L. Smith
Caixa Postal 2 A/C
69301-970 Boa Vista, Roraima
Brazil, S. America
This email address is being protected from spambots. You need JavaScript enabled to view it.
---
Prayer Letters